SEO is very difficult to manage and maintain. That is why many business look towards SEO companies to assist them in improving their business. These days, there are many SEO firms to choose from, all offering different packages at different prices. Unfortunately, some of these companies are not actual SEO experts and are trying to scam you and your business.
If you are looking for an SEO company you should be aware of some common lies that they say in order to try and win you over. If you hear any of these claims do not pursue that business any further and keep looking for a legitimate SEO business that can help you achieve real and sustainable results.
Here are the top common SEO lies:
"I can't explain my techniques because you wouldn't understand them."
It is true that some of the processes used by SEO experts can be slightly difficult to understand if you don't have any knowledge of the area.
However, most techniques are relatively straight forward and an SEO company should always take the time to explain to you what they are doing and how they think it will improve your business's SEO. If they don't tell you or don't want to explain it, it is likely they are cutting corners and using quick or unethical methods.
"We can offer you a free trial."
For a business to see SEO encouraging results it usually takes a lot of time and effort from the SEO company. It is very unlikely for a trustworthy company to put in all the necessary resources and give you positive results for free. If it seems too good to be true, it normally is.
The best SEO companies will offer month-by-month payments with no lock in contracts, that way the company has to repeatedly preform every month for you to continue to use the service.
"When you use SEO that's all you require."
SEO plays a large role in marketing and building awareness of your business. However, no SEO expert should tell you that SEO is the be all and end all of services to improve your business.
Most reputable SEO companies will offer more than just SEO because they understand that it takes more than search engines rankings to make a business successful.
Your business should be looking for other marketing channels including; social media & content marketing, reputation monitoring and advertising (just to name a few). At, SEO Shark, we offer complete digital marketing services.
"The more links you have the better your results".
Companies that don't truly understand how SEO works often use spammy techniques to get your business quick results, however the results are not sustainable.
Google now frowns upon large amounts of inbound links, and they focus on quality not quantity. Yes, having links is vital, but it is more important that those links are of a high quality.
Due to this view by Google, your search engine rankings are likely to drop if you have too many links, and worst case scenario, you could even receive a penalty.
"Our prices are extremely cheap."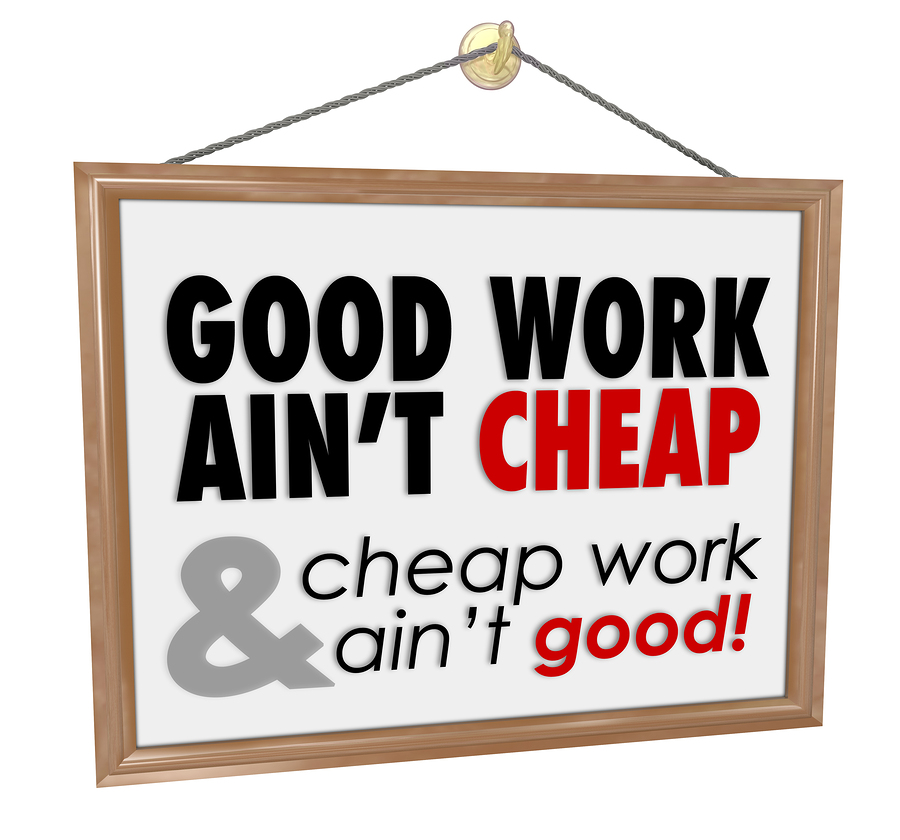 Like with the offer of a free trial, if it seems too good to be true, it probably is.
SEO requires a lot of hard work and even once you see results, it is still difficult to maintain. Cheap prices often means cheap service and some SEO companies outsource the work to other countries where labour is cheaper.
These cheap companies will usually use 'black hat' tactics and aggressively get your business results. However, it is not only about achieving the desired results, but also about maintaining these results. A good SEO company will understand this.
If someone offers you an SEO campaign at a price that is too good to be true, it generally is, you should ask yourself who in their right mind would work for as little as $1 an hour.
No one will work for a cheap price and provide a quality service!
"I know all of Google's algorithms."
Only the employees of Google know the algorithms, so don't let anyone tell you otherwise. Good SEO businesses are able to estimate the search algorithms by taking into account hundreds of different ranking factors; however there is no way to know the algorithms for certain.
Also, Google's search algorithms are always changing and updating. This means that it could not be possible for an SEO expert to know and understand all the algorithms.
"We guarantee that we get you to the first page on Google".
This is one of the biggest empty promises any SEO business will tell you. No one can guarantee the rankings on Google!
Google's own guidelines explain that you should not trust SEO firms that guarantee the top spot on Google. A more reasonable claim would be to get your website to the first page of Google.
However, it is important to note that even getting a website to the first page of Google will take some time, and this largely depends on the industry and the amount of competition.
"We can give you search engine rankings fast."
SEO results do not happen overnight and any business claiming to offer fast results are usually using unethical and 'black hat' methods. Google does not approve of 'black hat' methods and if your business is found to be using these methods you could be penalised or even suspended from Google.
Fast SEO results are usually unsustainable, so your business is able to see good results but your ranking is likely to slip after you have entered into a contact with an untrustworthy SEO firm as they no longer need to show you results. As said above, it is important to maintain the SEO results.
"Duplicate content is good for your SEO."
Google is now penalising businesses who are reproducing content across different domains to influence the search and therefore achieve a higher level of traffic. You should also avoid duplicate content on the different pages of your own website, as the same rules from Google apply (even though it is the same domain).
At SEO Shark, all our methods and techniques are ethical. We strive to not only improve your SEO but also maintain it. If you are interested in quality SEO services (among other services), contact us!
Read: Before Signing Up With an SEO Company
We are a friendly and reliable team that pays detailed attention to your projects and management of your brand. Our team at SEO Shark has a passion for all things online. We constantly innovate using the latest professional techniques and strategies.
https://www.seoshark.com.au/wp-content/uploads/2016/08/SEO-expert.jpg
752
900
SEO Shark Team
https://www.seoshark.com.au/wp-content/uploads/2016/11/logo-4.png
SEO Shark Team
SEO Lies from Businesses Pretending to be SEO Experts