Hi and welcome to SEO Shark, and if you're searching for SEO and digital marketing for optometry clinics, then we're glad you found us! We're the clear choice when you want high-quality, affordable, and impactful search engine optimisation services.
Experienced team delivering SEO and digital marketing for optometrists
Get the experts on your side when you want to engage SEO and digital marketing for you optometrist business
Implementing SEO and digital marketing for optometrists is not something that can realistically be done without the level of expertise and experience a professional firm like us can offer you. While it's possible to learn about different optimisation tactics free of charge, knowing how to leverage them in competitive markets and get a quick return on investment is something that you really need professional expertise to achieve.
Luckily, we can help you with SEO and digital marketing for optometrists in the following areas:
Keyword Planning and Integration
Keywords are the main signals by which Google and other search engines determine the relevancy of websites to a user's search intent and are therefore very important when executing SEO and digital marketing for an optometrist, or any other type of business.
When you partner with us, our friendly team will get to work conferencing with you about the keywords that you feel are most important to you and hammer out a winning strategy to get you to the first page of Google for those keywords. Our keyword specialists know how to identify opportunities for your business to get ahead of your competitors in search results and gain a huge increase in site traffic.
Some examples of keywords we are able to target when doing SEO and digital marketing for optometrists include:
"optometrist near me"
"optometrist Sydney"
"optometrist Brisbane"
"optometrist clinic near me"
"best optometrist near me"
The list above are just a few examples of the keywords we can target when we deliver SEO and digital marketing for your optometrist business. Our team has experience getting a wide variety of different types of business to the first page of Google search, putting them in front of the eyes of they ideal audience, significantly driving inquiries/sales.
One of the primary ways in which we implement your keyword strategy is by strategically placing the most important phrases throughout your website's copy, including in headings, subheadings, image descriptions and hidden alternative text + more. Our experts know how to place just enough keywords in the right way so that your website is clearly relevant to popular search terms but does not appear unnatural or over-optimised.
Pay Per Click Advertising (Google AdWords Management)
As part of delivering the best SEO and digital marketing for optometrists, we not only specialise in helping your business with organic search, but paid search as well. We believe that the best way to proceed is try and capture as much organic and paid search traffic as possible, targeting the same keywords so that you present a uniform and authoritative web presence.
Our Google AdWords specialists know how to create a cost-effective PPC campaign that gives you the greatest number of valuable clicks for the lowest cost. While competing directly with larger businesses for the same keywords can be expensive, our team are experts at finding unique opportunities for your business to remain competitive without breaking the bank.
Our clients appreciate the fact that we can keep the cost of they monthly bill as low as possible by using our expertise to manage a sleek and dynamic PPC campaign. When it comes to SEO and digital marketing for optometry businesses, we are able to deliver a powerfully effective paid search campaign that sees traffic to your domain soar.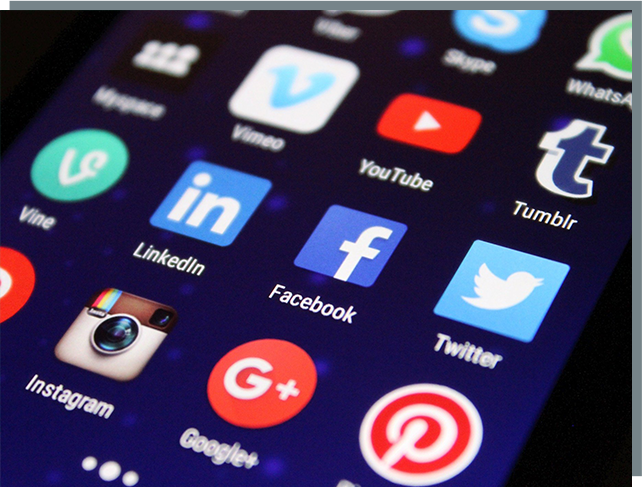 Social Media Account Optimisation and Management
Social media is another important area we take care of for you when we deliver SEO and digital marketing for optometrists. While you probably already have some rudimentary social media work going on (perhaps you post a few updates here and there), are you really executing an optimal strategy that makes the most of the audience you have and helps to grow it even larger?
Our team knows not only how to engage and grow your social media audience but turn those fans into actual paying customers who visit your website and remember your name when they need your services. We accomplish this through the use of advanced social media scheduling tools that allow us to expertly tailor both the length and frequency of your updates so that you audience is engaged without being annoyed.
Having a great deal of engagement with your social media channels will send more visitors to your website and improve your relevancy, and help in reaching the first page of Google search. In conjunction with the rest of our services for SEO and digital marketing for optometrists, our social media management packages give your business a robust voice and generates a following of loyal fans.
Website Auditing and Optimisation
No matter if your website is old your new, in order for SEO and digital marketing for your optometry clinic to give you a return on investment, you absolutely need it to be effective at generating inquiries. All of the search optimisation work we do won't improve your bottom line if people leave your site as soon as they arrive because it looks unprofessional, has faulty elements, or simply takes too long to load.
If you're anything like most people, you probably don't have much patience for websites that take too long to load, have annoying drop-down menus that disappear before you can click on something, and distracting graphics or videos that automatically play upon landing on the page. All of these things work to drive users away from your website and into the arms of competitors who do have functional and aesthetically pleasing websites.
Our web developers will audit your website and identify everything that needs to be improved, including areas of your HTML that may be slowing do your website and causing users to leave. We will help you to create a beautiful and seamlessly functioning website that actively drives users to your inquiries page.
Get in touch with our

Digital Marketing Agency
Mobile-Friendly Optimisation
As you well know, smartphones are the primary way in which people engage with the internet, being far more convenient than desktop computers or laptops. This means that the vast majority of visits your website gets will be from mobile devices, and you need to ensure that your website displays correctly and is just as easy for mobile users to navigate through.
Mobile users are even less patient than desktop ones, because they are normally using the phone while out and about. When we deliver you with SEO and digital marketing for optometrists, our team knows how to ensure your website is just as functional for mobile users as it is for desktop ones.
Content Writing/Blog Creation
Because there is so much spam and misinformation out there on the internet, Google places a high value on websites that provide sincere, authoritative, and useful information for users. Google's job is to make sure people get their answer in as few clicks as possible, so the more answers your domain possesses, the higher you will appear in search results.
This is why, when doing SEO and digital marketing for an optometry clinic, content creation is one of the areas we put the most manpower on behalf of our clients. Our professional and local copywriting team knows how to create high-quality blog articles, landing pages, product descriptions, and all other manner of content that might be required.
Why work with our team?
Discover why we are your best choice for SEO and digital marketing or optometrists
Expertise
Our team is made up of experienced copywriters, PPC specialists, search marketers, web developers + many more who have combined their talents to deliver the best SEO and digital marketing for optometry businesses, or another other kind of enterprise. We recruit the team members that we do because of their impressive portfolio's of past work and ability to work dynamically across multiple projects.
The results really speak for themselves. The SEO and digital marketing for optometry clinics that we deliver is one of the most affordable and effective options you can go with.
Reliability
You should only buy SEO and digital marketing for optometrists from a company that you can trust to be honest with you about the progress of your campaign and can adapt to sudden changes in the market. With our team, you can trust that you are always in good hands, and we will never hide anything from you for fear of losing your business.
Affordable Quality
When it comes to SEO and digital marketing for optometrists, for the most part, you get what you pay for. Without a decent capital investment, your efforts will flounder and end up just being a waste of time and money.
We have tailored our packages for SEO and digital marketing for optometry specialists so that we can provide an affordable way to get real results. We don't believe in half measures, but we don't seek to gouge your wallet either.
If you are ready to see your website clearly on the first page of Google with SEO and digital marketing for you optometrist clinic, speak to us today by calling our office on 1300 732 002 or contacting us online.