Improving your content truly is one of the best ways to improve your search ranking strategy. There are many other SEO booting tactics that you need to incorporate into your strategy, however, without reliable and informative content, your strategy can be all but wasted.
The reason for this is because a fundamental element to improving your online visibility is having a website or blog that people want to share, like and comment on. The only way this will happen is if the content they are reading is something that is of value and is easy to read and take information away from.
There isn't any point in having a lot of words on a page and somewhere within its body are key tips and advice. It needs to be a neat package that provides value from the outset.
By following the below 7 tips, you can improve your content and allow it to become something that is not only clicked on, but actually read, shared throughout different networks and relevant to Google's search ranking criteria.
1. Use the right keywords in the right places
Your keywords are those that your potential customers are using to type into search engines. These are the words that tell Google your website or blog post is something of relevance when someone types this into their search engine.
There is a fine line between overusing and under using keywords. Making sure you are using them in the right places will ensure that you aren't letting your keyword strategy go to waste.
Ensure your keyword is placed in the headline of your content, as well as used around 2 – 3 times throughout your blog post. Sometimes the keyword can be used more; depending on how much content you have. For example, a page of around 750 words should have the keyword used around 3 times.
Also, when using keywords, try not to stuff them in one section of your blog. Try to scatter them out in a natural and organic way throughout your content.
2. Don't forget to incorporate longtail keywords
Longtail keywords are essentially just a longer version of your main keywords.
Using the example keyword of dentist again, longtail keywords may be:
Dentist professional in Sydney
Affordable dentists in the CBD
Dentists that bulk bill
When thinking of your keywords, try and think as a customer would when typing in longtail keywords into a search engine. A great way to find what longtail keywords your customers are using is by looking at the "related searches" at the bottom of the page on Google. When you type in a search term, Google will show you other related search terms that people have typed in.
For example, when you type in "Dentist that bulk bill" it will also show you related search terms such as "free dentist sydney" (as you can see below).
3. Look for other themes
It's important to use similar keywords sparingly throughout the rest of the blog. For example, you may have the keyword "dentist". After you have used it in your headline and a few times throughout your post, you can also incorporate the terms "dental professional" throughout your post.
This is known as Latent Semantic Indexing and it is a way that search engines try to find other related terms and themes throughout the web. Not just your specific keyword. It takes into account a variety of key terms and phrases.
Using variations of your keyword will allow your content to still be optmised, but not look spammy or be seen as keyword stuffing. If you do use your keyword too often throughout your content, Google may even penalise your website for this, which will see your search ranking drop.
Keyword stuffing can be as easy as using a keyword 5 times more than it should be. Especially if your content is under 1000 words, it can be easy to keyword spam without even knowing it. Using "Control+F" on many computer keyboards will allow you to search for a particular term and see how many times it has been used throughout your content.
This is a great tactic to do at the end of writing your content. Concentrate on getting the content out first then do a check at the end for how many times you've used your keyword.
4. Always write for your audience first
It's great to keep search engines in mind when writing your content, such as remembering the use of keywords and longtail keywords. However, if your content doesn't flow in a natural way, then visitors aren't going to want to share your content or come back and read more.
Think about the last time you read a great article or blog.
Have you been back since to check out the latest post?
Have you told other people about the blog?
Have you liked or shared their content on social media?
Have you signed up to their email database to receive new posts?
More than likely if it was a blog that read well with informative information, then you have. Nobody ever likes or shares content that doesn't read well.
Although everyone may not be an expert or familiar with the art of writing or good content, most people can still tell if something is valuable or just words for the sake of words.
Elements to keep in mind are to try and stay away from having a mechanical tone and a strange use of terms in a sentence. Most people will use similar phrases and longtail keywords as they write naturally, so don't get too hung up on writing your blog post in a certain formula or ticking off a criteria as you go. Again, the best way is to double check your content at the end and tweak if necessary.
An example of a naturally sounding sentence using the keyword "content marketing" could be:
"Learn how to use best practice content marketing in your strategy."
However, an example of a sentence that might make your content sound like your keyword stuffing could be:
"The best content marketing strategy will help your content marketing activities stand out."
As you can see, one sentence flows naturally, whilst the other is overly optmised. Also, the latter doesn't sound as engaging or informative as the first. It's all about giving the reader bite sized information in an easy to read format. Normally if you're using a keyword twice in one sentence or paragraph, then it could be too much.
When you are trying to write creatively but get stuck on deciding whether to include a keyword, just move on and write. When you stop the creative flow of your writing it can hinder your content's ability to sound interesting and instead it becomes disjointed.
5. Be informative
Writing a post in a well structured and organic style is one thing, but you also need to ensure your content is actually providing real value to the reader.
Ask yourself, what tips, hints and advice can they actually take away from my writing?
The more comprehensive your content is, the more informative it can be. Therefore, it's important you keep in mind the word length of your post. Various marketing studies have shown that blog posts with around 2000 words rank the highest.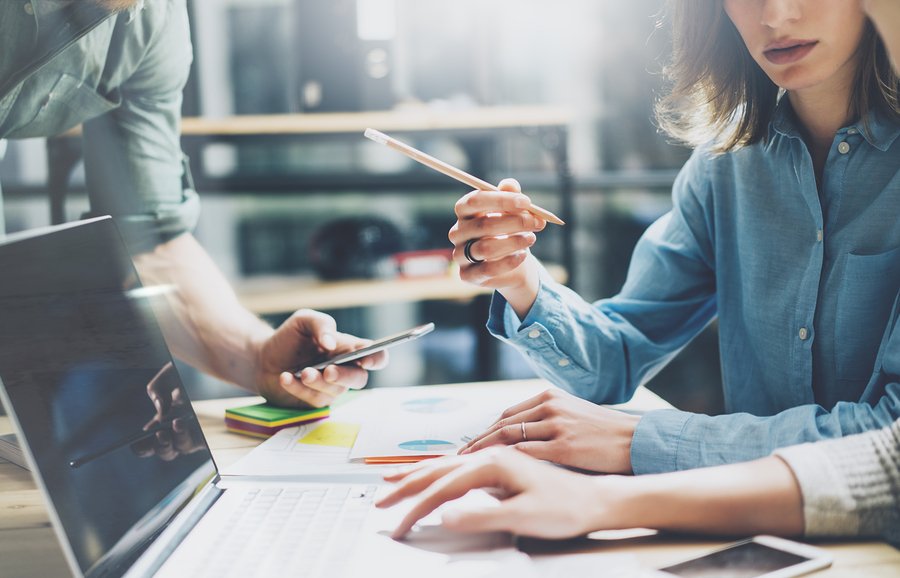 This could be due to 2 key reasons. Firstly the more content a post has, the more likely search engines will pick up keywords and longtail keywords. Also, the longer a post is the more likely it will be of real substance, information and examples. These are all elements to valuable content and will make the reader more inclined to stay on the page longer, share and comment.
The longer a post is, the more search engines will identify the content as something that is actually answering a visitor's question or search in detail. Incorporating research, visuals, resources and examples will help pad your content out in an informative way rather than just adding words to a page.
6. Always ensure content is unique
Duplicate content can occur for a variety of reasons. When a website or blog is quite large, it can be easy for words and paragraphs to merge, making for duplicate content or very similar content.
An easy way that this happens is when writing about descriptions. For example, you could have a marketing service where the key benefits and point of difference for each service could be very similar. Therefore, the content becomes duplicate or close to for each page about your different services.
To try and keep your content as unique as possible, it's important to ensure your content isn't featured anywhere else, addresses topics or issues that aren't featured on lots of other websites and incorporate resources or quotes that aren't seen anywhere else online.
You can double check whether your content is duplicated by using a free online tool such as CopyScape. It tells you whether your content is featured in its exact format anywhere else online.
Where possible, it's great to incorporate quotes by experts into your content. This will bring a unique and informative edge to your content.
Sites like Sourcebottle allow you to make a call-out for a particular expert or source to provide comment for your blog. This then goes out to their database of experts, who then get in contact with you if they would like to have their advice featured in your post.
It's a win-win scenario. You get unique and original content to feature in your blog and they get exposure and added credibility by being your featured expert.
7. Don't forget about headline tags
Your headline tags allow your content to be structured in the right way for SEO purposes. It tells search engines what's important and makes your overall content easier to read.
As a rule, include the following:
Include your keyword in the H1
Ensure you have only 1x H1
Don't duplicate headings
Use headings in a logical order e.g. H2, H3 etc.
Try and incorporate different font sizes e.g. H2 may be for subheadings whereas H3 might be for dot points.
As I mentioned previously in this article, don't concentrate too much on formatting issues at first. It's best to have a well written and creatively flowing content and worry about keywords and headings when you do your review.
Summary
Making these small but important tweaks to your content can make a big difference to your SEO. Using keywords will allow your content to be found by search engines and incorporating longtail keywords will further help optimise your content.
Allowing for a natural flow to your content will ensure information flows in a logical way rather than giving it a stiff tone.
Unique content is crucial. Always try and make your content fresh and new. When in doubt, do a bit of research and find key quotes, research and data that can help flesh out your piece.
Headings are a key part to the formatting of your piece, but don't put this before content. Just do a double check of your content at the very end to ensure you have all the right headings, keywords and formatting.
Creating content as part of your SEO strategy should be the most fun and creative part of the process. Try and enjoy sharing useful information with your readers and think about how your words and expertise will be used to help many individuals or businesses around the world. Content is a very powerful resource and if done right can be one of the best online strategies for your website.

Read ➡ 6 Easy SEO Fixes to Improve Your Ranking Quickly
We are a friendly and reliable team that pays detailed attention to your projects and management of your brand. Our team at SEO Shark has a passion for all things online. We constantly innovate using the latest professional techniques and strategies.
https://www.seoshark.com.au/wp-content/uploads/2017/06/Content-Writing.jpg
84
120
SEO Shark Team
https://www.seoshark.com.au/wp-content/uploads/2016/11/logo-4.png
SEO Shark Team
7 Tips for Improving Content that will Boost SEO