In SEO, one of the main achievements is getting your website to the first page of Google. This is because once there, your website will be more visible and could result in higher traffic to your website and higher conversion rates. However, once your website takes a position on the first page of Google, you shouldn't just stop there. Even though your website is now highly visible, a stock standard listing without anything to really grab the users could result in users going to another competitor's website.
These days it just isn't likely that you will generate the same level of traffic if your listing doesn't stand out. The competition in Google is now fiercer than ever and you will need something out of the ordinary to ensure users are actually clicking on your website.
Refining your listing should be the same as refining your website. You should take a lot of care when designing the perfect listing because even if you have put a large amount of effort into the website, if your listing doesn't stand out, users will not notice it at all.


Improve your SEO ranking
Even if you are not on the first page of Google, the below tips are still very helpful for you when creating the perfect listing. If you pick up these good habits and tactics now, then you will certainly be fully prepared when your website does finally make it to the first page of Google search results.
Google site links
Google site links are a very cool feature and would certainly assist in your search listing standing out from the others. However, you are unable to sign up or purchase site links from Google. Google decides the websites that receive this privilege based on popularity in the business's industry as well as total amount of pages. If deemed worthy, Google will assign your listing with designated site links.
An example of a site links listing is shown below, when the keyword "facebook" is typed into the search engine:
The site links Google assigns the search listings include "Log in to Facebook", "Welcome to Facebook" "Settings", etc. There is almost always six site links for these search listings. These site links will direct users to a specific page of the website (not just the home page).
As you can see, these search listings take up a lot more space than the typical listing. This means that there has now been a move towards fewer results in the natural results page.
It is usually difficult for your listing to include site links, but this is an achievable goal. You must work hard with your SEO campaign to make Google notice your website for all the right reasons.
Site links are pretty much uncontrollable; however you do have the ability to manage one component. For example, if there are a couple of pages that you would not like Google to list in a future site link listing then you can simply log in to your Google Webmaster Tools account and under the "Configuration" menu you will find site links. Here you can choose the pages from your domain that you wish to not be included, if and when your website becomes site linked.


Photograph Snippets
While it can be annoying that you are not in control of Google site links for listings, there is another good way that can help you stand out; snippets.
By using snippets on your Google search listing you are able to bring some colour and excitement!
Also, by sending Google the information of the picture regarding all the content that is on your website you can rise above the rest. This means that when your listing appears in search results, Google has the ability to connect the information with your snippet.
What is a snippet I hear you ask?
Well, a snippet is the information like pictures and general information such as the rating and time it takes to complete a task, etc. that can be added to the search listing. Snippets are important especially for things like articles, recipes, blogs, etc. A snippet is similar to that of Google authorship (which was terminated by Google a few years ago) in which a picture is included in the listing.
A snippet on Google listings looks like this:
These types of snippets assist users in determining the relevancy of a website to what they are searching for. A picture helps when bringing variety and colour to your listing which will draw the attention of the user. A snippet gives users additional information as to what they are able to find on your website.


Write a comprehensive meta description
These days, meta descriptions tend to get ignored. And they shouldn't! Meta descriptions play an important role when it comes to search rankings or as social signals; they can be very influential when in terms of search engine results and ensuring your listing has that wow factor. By optimising your meta description you are increasing your chances of users clicking on to your website.
Here are some good tactics to ensure that you are fully optimising your meta description:
Include a call to action. This should always be included because you have to sway users to actually click through to your website. When writing a call to action, you should always start with an action verb, ask a question and end with an action. This way you are fully grabbing the attention of the readers.
Introduce a cliff hanger. Who doesn't love a good cliff hanger? A cliff hanger should be similar to that of the last seconds of the season finale of the most dramatic TV show. But instead of people having to wait six months to find out if their favourite character died or not, they can just simply click on to your website to instantly find all the answers! A description like "You will never believe the 7 best steps to boosting your SEO ranking." Don't you want to know what the steps are?! I do.
Use keywords. An oldie but a goodie. Keywords are very important for not only search engines, keywords also help users determine if the search listing is actually relevant to what they are looking for. This is why you should always include accurate and descriptive keywords to ensure users are not disappointed when they click on to your website.
Use all the characters. You should always look towards strong meta descriptions and this means you should try to use all the 160 characters available to you. It can sometimes be difficult, however the more descriptive you are, the greater chance a user will actually find something of value on your website. At the very least your meta description should be two lines long.


Google Reviews
Google reviews are very important and they are an easy way to improve your search engine listing. When reviews are included in your listing you are adding an extra bit of colour that will attract users. You should always remind your customers to leave reviews of your business through Google.
Here is an example with the Google review stars:
As you can see the shape of the stars and the actual colour brings greater variety to the listing. Also, if you have good reviews then this is even better because it allows users to see what positive things other people think of your business.
You should always ensure that asking your clients to submit a Google review is a part of your process. For example, after a couple of months of working for a particular client or after a transaction has been finalised, you should send them an email asking them for their opinions on the interactions with your business.
It is unlikely that all clients will leave 5/5 star every time.
Therefore, it is a good idea to write a response to all reviews, especially to those reviews that are not 5 stars. This means that if a user is reading the reviews then they are able to see both sides of the story when you have written a response.
Below is a response by our team when there was a 1 star review given
By explaining this situation and even offering a service for one month free, we are better explaining the situation to other users. Users should now feel less worried about this negative review. This is why you should always respond to reviews, even if the reviewer doesn't reply to shows users that you actually care.


URLs that are search engine friendly
This may seem like something so trivial and small, however search engine friendly URLs do have an impact on your listings ability to stand out. Your format of the URL influences exactly what is going to be displayed in the search results. This is why it is important to use search engine friendly permalinks structures and file names that will make your listing seem more relevant to users.
For example: www.yourwebsite.com/1232 (not actually a URL!) says nothing about what is included on the webpage, however the URL www.yourwebsite.com/dog-food/ is easy to follow and understand that this webpage is about food for dogs.
These days, webmasters have the ability to tweak their URL snippets to be clearer when providing the content to search results listings. Therefore, when you are creating the URLs for your website make sure you are paying attention to things such as keywords and the structure. As well as this, ensure that your website is properly organised in terms of its overall hierarchy and structure.


Compelling headings
This is the easiest way to make your search engine listing to stand out, especially if you have taken the time to create a good heading for the content on your page. This is because you can just use the same heading! If you need help creating a good heading for your content (and therefore can be used in the listing heading), have a read of the article I wrote about "How to write a headline that will drive more traffic to your website".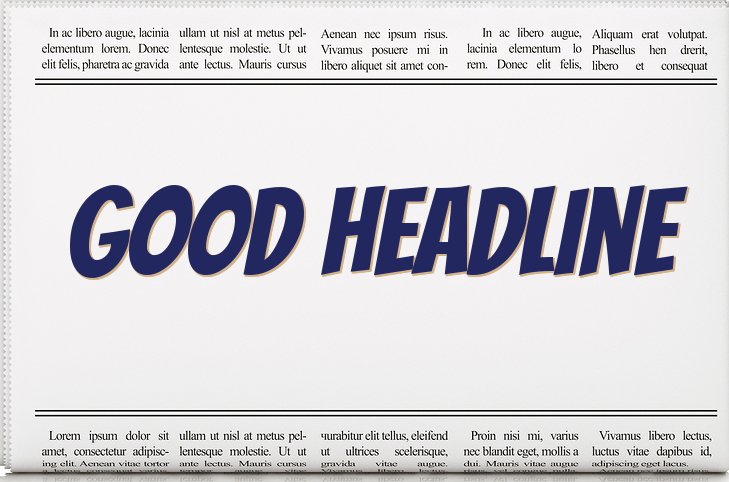 The headline is important because it is the first thing that users will read and it will determine whether they actually click on to your website. If the headline isn't intriguing or relevant to the actual content, then users will go to another website. Your headline listing should be short and sweet to properly capture user attention.


Optimise for local searches
Optimising your website for local searches isn't something that a lot of websites do, however it can be very beneficial! By properly optimising you should fill out your business profiles on local directories, especially in Google Maps because this means Google has a better understanding of your business and can help your listing stand out.
When Google knows more about you this can increase your chances of having a map show up on the side of listings when your business name (or similar) is typed into Google.
Final Thoughts
It is important to create a listing that is both engaging and relevant no matter what page of the results your website is on. However, the first page sees the most eyes and therefore there is a greater amount of competition. This is why it is particularly important for listings on the first page to take into account the seven points listed above to ensure that their listing successfully stands out from the rest of the pack.
A listing on the first page would not have nearly as much impact if it doesn't have a fully optimised listing. On top of this, you may have an amazing website with content and features that users will love, but without a listing that compels users to click on to the website they will never know.
A listing on the first page of Google is a big opportunity; however, you are virtually ruining your chances if you don't create an engaging listing with all the necessary bells and whistles to get users looking.
*****

Read ➡ 5 Things Google Hates About Your Website
We are a friendly and reliable team that pays detailed attention to your projects and management of your brand. Our team at SEO Shark has a passion for all things online. We constantly innovate using the latest professional techniques and strategies.
https://www.seoshark.com.au/wp-content/uploads/2014/12/google-first-page.jpg
400
600
SEO Shark Team
https://www.seoshark.com.au/wp-content/uploads/2016/11/logo-4.png
SEO Shark Team
Best ways to get your Google search engine listing to stand out