Even if you have been living under a rock for the past decade, you would still probably be aware of Facebook. Over the years Facebook has changed and grown into the powerful social player it is today.
Many people use Facebook for personal reasons as well as another way for their business to communicate with consumers. Businesses now understand the true potential that Facebook holds and they are constantly looking for ways to improve the total number of likes for their page.
If you are in control of managing a business Facebook page you are probably already aware of the challenges of attracting new likes to your page. However, despite this challenge, it is definitely worth your while. Facebook likes have the ability to create higher levels of page engagement and could also result in more people visiting your website and purchasing your products and/or service.
There is an easy way to get more likes for your Facebook business page; by using Facebook's paid ad platform or even using external companies and purchasing likes (however, this is not recommended as these likes are usually fake likes and will not result in higher levels of engagement etc.).
However, if you do not have the funds required to run an ad campaign or pay for likes, do not fear!
Listed below are some excellent ways that will help you get more likes for your Facebook business page that won't cost you a cent!
Ask contacts to like you on Facebook
Ask and you shall receive! Ask as many people as you can to visit your Facebook page and like it. From clients to other businesses to friend and family, every like counts!
On your website you should include information about how your website is on Facebook and users should go and like you. You should communicate as much as you can to your customers letting them know you are on Facebook. If they don't know about your Facebook page, how are they going to like it?
Post the right amount
This is easier said than done, because who knows the right amount?
You should aim to post often enough that your website is visible on your follower's timeline therefore meaning less likelihood of being ignored or overlooked. But not too often that you bombard your followers with constant posts.
It can be difficult to find the right balance between being noticeable and clogging up your follower's newsfeed. Analysis conducted by KissMetrics explains that a good guideline to stick by is 1 (or sometimes 2) posts every day. This is because engagement increases by up to 40% when posting 1 (or even 2) times a day. This will ensure that you are posting enough to make it easier for people to find (and like you) when searching.
Source: KissMetrics
Offer an incentive
Incentives are a good way to get more people to notice your business and like it. Many businesses are using this tactic to strengthen the amount of followers for their Facebook page. Incentives could include a coupon, a special offer or something else of value. This incentive would only be offered to those who like the page, which would encourage more people to click the like button!
Additionally, you could also encourage followers to share the post and your page with an incentive. This way your page will be shared with all of that individuals Facebook friends and that will hopefully result in extra likes for your business page.
No matter the type of business you run, you have the ability to offer an incentive.
For example, if you run an online clothing store, you could offer the individuals who like your page a 10% discount. Alternatively, if users like and share your Facebook page they will go into running to win a summer wardrobe. The incentive can be anything you can think of, however, it is a good idea that the prize actually relates to your business. So, for example, if you run a florist, don't offer a new iPad as the incentive prize!
Post length
Facebook allows for the one of the largest amount of character limits for posts out of the social media networks. But that doesn't mean you should use it! These days there has been as distinct shift towards more pictures and less words. I mean look at Instagram, the photograph is first and then the caption or post is after. This is because people are becoming more and more impatient and lazy. They don't want to read an essay of a post, they want to be entertained.
You must remember that Facebook is not a blog, so it shouldn't be treated that way. Short and to the point posts are much more likely to grab the users' attention (especially if there is a good picture to accompany it). Short posts that are quick and easy to read have a greater chance of grabbing people's attention and can hopefully result in more likes for your page.
A good guide to go off for the length of your post is the Twitter character limit, 160 characters. Anywhere between 100 and 230 character is long enough to make your point, but also short enough to ensure the post grabs the users' attention. So, for Facebook it is recommended to write 1-3 sentences.
Quality pictures
As said in the fourth point, photographs are become much more important. These days, users tend to look at the photo first and then, if they are intrigued by the photo, they will read the post. If you are looking to capture people's attention and get more Facebook business page likes, then your photograph must be of high quality.
It is also a good idea to introduce variety into your photographs, so your followers aren't seeing similar pictures over and over again. Find a high quality photograph for your business Facebook page can be difficult especially due to copyright reasons.
Free & Quality Images
If you are looking to find free images that have no copyright attached then here ➡ is a list of free stock images Have a look and start downloading free and high quality images! Alternatively, if you are willing to pay a little money, then Bigstock has good quality photos that you are able to use for Facebook posts purposes.
Promotional content
No one likes to be constantly bombarded with direct advertisements as Facebook posts. This will usually result in a drop in likes for your Facebook page. I'm not saying you shouldn't post promotional content on your page, but there should be a happy balance.
A good guide to go with is 80% non-promotional posts and 20% promotional posts. This adds some variety to the type of posts on your Facebook page and it is more likely to keep users interested to see what you are going to post next. The worst thing you can do is become predictable!
Know the best time to post
It can be difficult to know when the best time to post is. This is because different followings usually have different times they are online and there is no one clear cut answer. However, it would not take you very long to figure out the best times; all you need is a little trial and error to get you started!
You should always pay attention to when the most amount of people are online (this therefore being the best time to post). However, it is important to note here that post reach and post engagement are two different things. So, you should understand what your goal is and this could therefore determine the actual time you will be posting.
As a guide, most people tend to check their Facebook in the morning (i.e. when they wake up, or on their way to work) and in the evening (i.e. after school or work and before they go to bed). Therefore, you should always try to schedule posts at around these times to achieve the greatest reach. The more people you reach the greater chance that someone will engage with what you are posting about.
Times you should always try to avoid (generally speaking) are very late at night or early in the morning (i.e. when people are still asleep) or weekend afternoons or nights (i.e. when people are usually busy or out with friends/ family).
Interactive and interesting content
This is certainly one of the most important ways that you can gain new followers (while also keeping your existing ones). If your post content is deemed valuable and interesting, therefore meaning people want to see more, then they are sure to like your business page. However, creating this like worthy content is easier said than done!
Asking questions can be a good way to get more people to engage with your post or even post about something that is happening in the world today that people can relate to. Check our Facebook Page and of follow us as well :-)
You should think about what you would like to see on your news feed and what you think will get shared. Facebook is the place of viral trends and sharing, so it is important that your content is so interesting that your followers have no choice but to share it!
Humour
Many businesses have mastered the use of humour, however these days; humour can be a slippery slope. Something that you may find funny, someone else could find tacky and offensive. Nonetheless, people do like to be entertained through humour and something to lighten their day from all the seriousness.
I have personally found that humour posts that include a meme of some sort, tend to get shared a lot more often than normal posts. To create your own amazingly fantastic memes you will need a meme generator! Meme Generator is a great website that has all the photographs of memes and you can easily and quickly create your perfect meme.
If you are having trouble coming up with your own original funny posts, you can also just look up funny things celebrities have said. You can quote them in your post and even ask what everyone thinks about it (therefore inviting people to comment and engage!).
Facebook Insights
Do know about Facebook Insights? And if you do, how many times do you actually check it? Facebook Insights is where you can find all the information and statistics about how your Facebook business page is tracking. From things like page views to total engagement, everything you could need to make a decision about future posts can be found on here.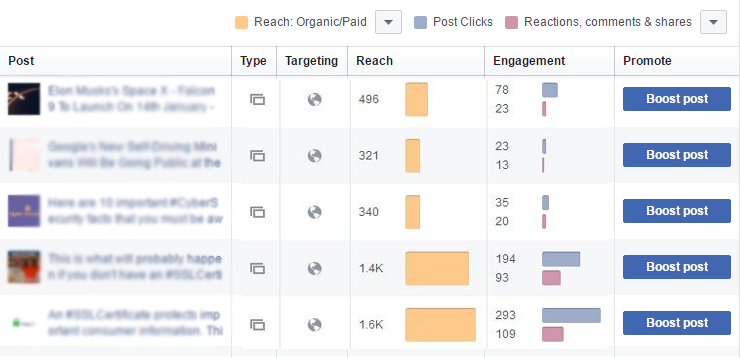 Above is what Facebook Insights looks like for the five most recent posts (you do have the option to few all of your past posts as well). By analysing this data you can have a better understanding on the type of posts your followers are more interested in. By giving your followers what they want, you are opening yourself up to the higher chance of shares etc. which has the possibility of bringing in more Facebook likes to your page.
Hashtags
Hashtags do not work as well on Facebook as they can on Instagram or Twitter; however they are still a good way for new users to find you. Hashtags act as keywords that people type into the Facebook search bar. By using the right amount of hashtags, users have a higher chance of finding you. However, it is important to note that you shouldn't go overboard with the hashtags on Facebook, leaving the excessive amounts of hashtags for Instagram and Twitter!
In Summary
Facebook can be a difficult place to conquer for businesses, especially if you don't have the necessary resources to maintain a good campaign. Increasing your Facebook business page likes is always going to be one of your top goals because you can understand the true importance (and power) of Facebook for your business.
There are a lot of different ways you can go about bringing more likes to your page. However, if you want genuine likes by people who could actually be your potential customer (and all while not costing you a cent!) then you should follow the eleven above points. Gaining Facebook likes when first starting is tricky business, but it does slowly become easier as you obtain a better understanding of your followers and what you have to do to get more people to like you! If you don't have time or you would like to consider outsourcing your social media management, you might choose one of our social media packages available on our website.
*****
`


Read ➡ 9 Tips on how to write a headline that will drive more traffic to your website
We are a friendly and reliable team that pays detailed attention to your projects and management of your brand. Our team at SEO Shark has a passion for all things online. We constantly innovate using the latest professional techniques and strategies.
https://www.seoshark.com.au/wp-content/uploads/2017/01/like.png
115
150
SEO Shark Team
https://www.seoshark.com.au/wp-content/uploads/2016/11/logo-4.png
SEO Shark Team
Simple (and free!) ways to get more likes for your Facebook business page