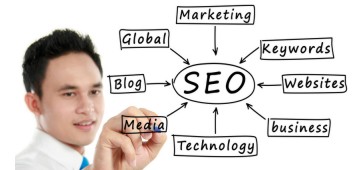 Do we know the Future of SEO?
It seems that the information revolution has arrived, thanks to the World Wide Web. As a result of course marketing has also changed. That is, Search Engine Optimization. There seems to be an emphasis on creative content-okay sometimes it called "viral" when referring to social media-rather than just one size fits all type of marketing. After all, can creating the same package rich and poor, single branch and multiple branch work? It's all about growing what TV shows call a fan base, a recognisable brand.
Could these things be where the market is changing?
Instead of less content marketing, this practice could maybe grow and grow? It does seem that the content must be relevant to the site. Okay, exceptions could be if it makes the visitor laugh or makes them think. Most people now think that content marketing is a social media affair, rather than adapting any old website.
Improving SEO content for your website
We can look at other ways to improve SEO content-such as creating up-to-date newsletters as well having articles on websites which you share to other areas of the web. It seems than money spent previously on commercials are spent elsewhere. A catchphrase spoken onscreen or on the radio doesn't seem to be the obvious sell it once was. It is better to have select advertising rather than having everyone seeing the same advert.
If you use social media to market, you may have to negotiate new sites. It's obviously developing a strategy for a dead end social media site but you need to look at all sorts of content and see where things could be improved. Again, it's about creating individual, maybe quirky, content. The more sites, the more complicated the marketing needs to be.
Sometimes we do not know what will achieve or not. In the same ways that many advertising schemes fell by the wayside, so will several social media techniques. It may help the client see what the product or service is more clearly. Sometimes a media campaign can complicate matters of course.
It is of course important to obtain the best image with your marketing. And the best way to maintain an image is of course by having images. Many social network and similar sites reward people for having a photo next to their name so the client know what they are getting. It would seem that social networks will share images are popular (which you can do on Facebook and Twitter of course) and there maybe more to come.
It's no good having just a plain blog content you need to have an image with it. There's the old cliche that a picture paints a thousand words, although it isn't literally true, it can help sell a run of the mill article and a chart may explain a particular effect. You can also have a funny picture linking to a serious article-if it's good enough for the newspaper it's good enough for the net. No one can really know what the future of SEO content is, they can only guess. Maybe the odd SEO company has some insight, but things are bound to change.
https://www.seoshark.com.au/wp-content/uploads/2014/12/seo-services.jpg
170
360
SEO Shark
https://www.seoshark.com.au/wp-content/uploads/2016/11/logo-4.png
SEO Shark
2014-12-11 00:04:35
2016-06-21 18:04:31
The Future of SEO - Trends for SEO