Emails, and email marketing has certainly been around for a very long time. This type of marketing is certainly one of the most established methods to reach a business's target audience. Each day there are more than 294 billion emails sent (these emails could be personal, business or marketing related).
Due to the large amount of emails each person probably receives each day, it could be very likely that your business marketing email is not read and/ or deleted. Therefore, it is important to introduce a strategy that will help your emails stand out from the rest.
While developing this new strategy is it vital that you are also aware of some of the most common email marketing mistakes. This is because, if you are able to avoid these mistakes, it could easily and quickly boost conversion rates.
The top 4 common email marketing mistakes that must be avoided:
1. Spelling/ grammatical errors
Nothing looks more unprofessional (or more embarrassing for you and your business) then sending an email for marketing purposes to countless recipients and later realising there was a spelling mistake or a grammatical error. This type of mistake can easily damage your credibility as it shows to consumers that you are careless and do not have a high attention to detail.
That is why it is so important for you to triple (maybe even quadruple) check your marketing email campaign before you send it out. It is also a good idea to have a few other people read over it because a different set of eyes could help pick up a mistake you didn't see.
2. Sending emails from a 'do not reply' domain
As you are probably already aware, receiving an email in which the domain begins with DoNotReply@ or NoReply@ is a significant turn off. Consumers do not like these types of emails because it is unappealing and not inviting. Due to the nature of these types of emails, the open rates are significantly lower.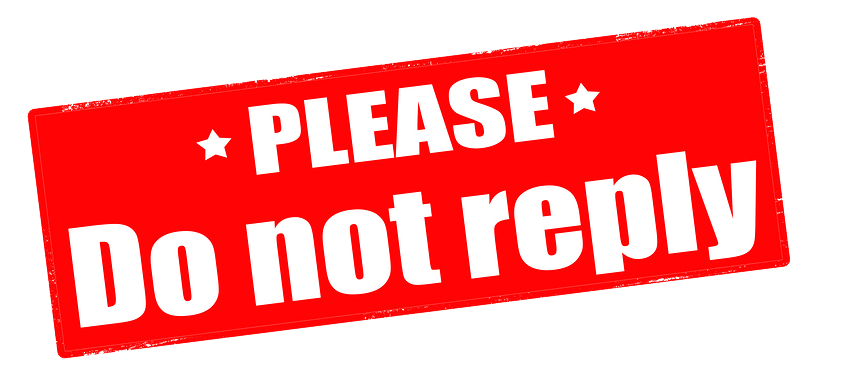 One of the main purposes of an email campaign is to ensure potential and existing customer get in contact with you. So why send an email in which they are unable to reply to? Sending an email from an actual address means that consumers are more likely to open and get in touch with the business.
3. Emails that aren't optimised for smartphones
Do not underestimate the power of the smartphone! Now, more than half of the total email messages sent are being opened on smartphones. That means if your email isn't compatible on a smaller device and screen, readers are more likely to get frustrated and not read or simply delete the email.
A few key factors that need to be included to ensure the email is optimised for smartphones include; fonts that are big enough to read, responsive & fluid design and big call to action buttons that aren't too close to other links (to prevent consumer clicking on the incorrect link).
4. Not including enough links
The main goal of your email marketing campaign is to have consumers click onto your website and purchase from your business therefore creating a conversion. However, if you do not include a link on to your website in the email, it becomes a lot more difficult for consumers to find your website.
It is imperative that you make it as easy as possible for consumers to find your website, if it is too difficult they are likely to forget about it.
Read: SEO Lies from Businesses Pretending to be SEO Experts
We are a friendly and reliable team that pays detailed attention to your projects and management of your brand. Our team at SEO Shark has a passion for all things online. We constantly innovate using the latest professional techniques and strategies.
https://www.seoshark.com.au/wp-content/uploads/2016/11/marketing.jpg
659
900
SEO Shark Team
https://www.seoshark.com.au/wp-content/uploads/2016/11/logo-4.png
SEO Shark Team
Common Email Marketing Mistakes That Must Be Avoided