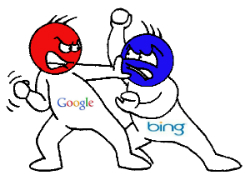 Rewarding Users for Search
In the world of search engine optimisation, everyone is always trying to best Google's algorithm, but is it possible that we've been focusing on one engine for far too long? Is Microsoft's Bing the new and better search engine on the block? Are you missing customers because you aren't focusing your SEO in terms of Bing and its algorithms? It is all entirely possible, because more and more users are using Bing for their search needs.
One thing unique to Bing is that they reward their users for searching on their search engine. They give users a point for every two to three searches, and when a user reaches a certain number of points, they can redeem those points for all manner of items, including Amazon gift cards. So by maximizing your website's SEO to be seen on Bing, you will be getting seen by a number of users who have switched to using Bing exclusively.
Streamlined Website
Bing's website is rather streamlined compared to Google, and a lot of users like the way results are presented to them. This is another reason you should focus some of your search engine optimisation efforts on being seen on Bing. Having the ability to focus on streamlining their website has been a good thing, because users want a website that is much easier to deal with when looking for their favourite items.
Easier Algorithm
In addition, when you search, it is arguably easier to manipulate the Bing algorithm than it is to do manipulate Google's search engine. This is because Google has to deal with more people trying to use black-hat SEO techniques to manipulate their results. Due to the lower focus on changing a website to meet their algorithms, it is easier for you, as a webmaster or marketing expert, to focus your efforts on getting quality content indexed by the Bing search engine.
People are Bored with Google
Additionally, people are becoming bored with Google, and are starting to look for alternatives to their search. People are using things like Bing, the Yellow Pages, and Yelp to do their searches, because they are becoming jaded with the main search engine. Many people also have political and emotional issues regarding Google's use of an individual's personal information to sell items to them. It has turned a number of people off of the website.
Both Windows and Amazon Fire Phones Use Bing
Another reason why you should focus on Bing instead of Google is that with the increased market for cell phones, there are a number of people who have either the Windows phones or the brand new Amazon Fire phone. These phones use their voice search function to search the Bing search engine. In addition, more people are using their phones to do the search, not only because of their increasing speed and mobility, but because people enjoy doing natural language searches. This is why you want to be where your customers are, and that's on Bing, on their phones.

Lucas specialises in: SEO (Search Engine Optimisation), link building, AdWords, social media, web development, business branding and reputation management.

Latest posts by Lucas Bikowski (see all)
https://www.seoshark.com.au/wp-content/uploads/2015/03/bg.jpg
180
250
Lucas Bikowski
https://www.seoshark.com.au/wp-content/uploads/2016/11/logo-4.png
Lucas Bikowski
2015-03-05 20:51:44
2016-06-21 17:48:16
Are you bored with Google? Is Bing the New Google?